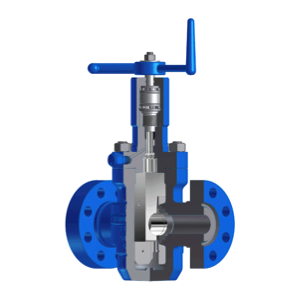 Xmas Tree Gate Valve [GXT]
DN 50 (2 1/16) ÷ DN 100 (4 1/16)
Working pressure 2000 ÷ 5000 psi
Design
Thrugh-conduit and bi-directional
Casted body and bonnet
Bolted bonnet (BB)
Inside screw, non-rising back-seating stem (IS&NRS)
Forged, one-piece, guided solid wedge
Safe and absolute metal/metal sealing
The interior of the valve filled with grease for easier manipulation and anti-freezing water sediment
Flanged ends according to API Spec. 6A tip 6B-Ring Joint
Threaded end according to API Std. 5B
Applications
Valves is used for equipping assemblies and pipeline on whels in exploitation of naphta, earth gas and water in temperature range from -60°C up to 121°C.
Media
Depending on the gate valves materials for:
water
gas
oil (WOG)
other non-aggressive media
Pressure and temperature
Working pressures up to 5000 psi
Temperature up to 121 °C
Materials
Cr-Mo and stainless steels
Advantages
Long service life
Respect to emission standards
Zero leakage also on the low pressures
Easy handling and maintenance
Stem packing replacement in working conditions
Options
Flanges and welding ends according to: GOST, DIN, itd.
Other paint finishes are available upon customer's request
Gate valve complete with counter flanges, bolting and gaskets.
Testing
Every produced valve was tested according to API Spec. 6A (ISO 10423)
Interested in this product?
Raise a nonbinding request now!