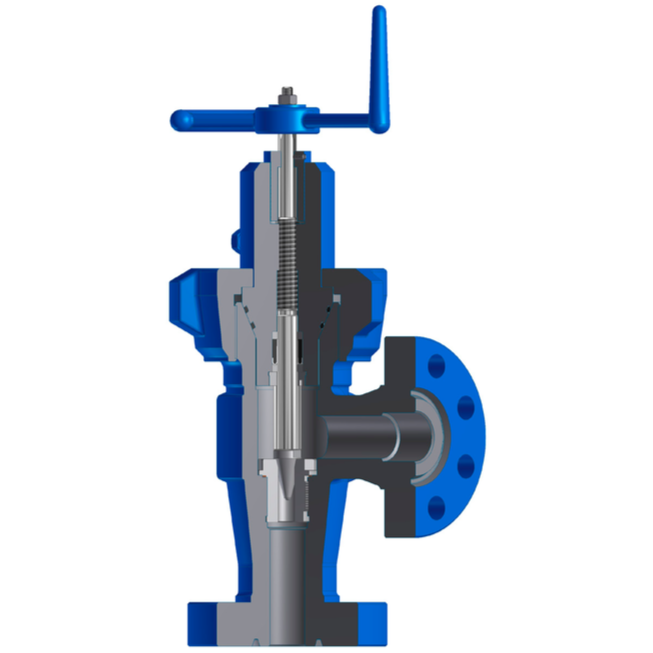 Adjustable Choke acc. to API 6A [VAC]
Working pressure 2000 ÷ 5000 psi
Applications
Adjustable Choke is intended for flowing fluid control. The use of this valve makes possible to control fluid flowline size, to avoid unnecessary erosion and damage caused by turbulence through the flowing system. It is equipped with an indicator showing actual diameters of ring-shaped area between seat and disc, and it serves as the basic for calculating flow area size.
Materials
Body, bonnet and bonnet nut are of alloyed Chromium-Molybdenum (Cr-Mo) steel or stainless steel. Plug, body seat ring and stem are made of stainless steel with a minimum of 13% Chromium. The Bonnet gasket is made of VITON.
Production and delivery
Adjustable Choke is designed and manufactured in accordance with API Spec. 6A (ISO 10243), product specification level PSL 1 (PR 1). Dimensions of the flange connections are according with API Spec. 6A/type B Ring Joint, threaded ends according to API Std. 5B. Centre-To-Face and Centre-To-End dimensions are according to manufacturer standard. Quality control is according to API Spec. 6A (ISO 10423).
Instruction for Installation
Before installation and first run connecting pipeline should be thoroughly cleaned of foreign particles that may damage the seating surface.
Interested in this product?
Raise a nonbinding request now!