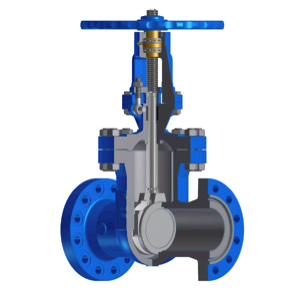 Gate Valves acc. to EN 1984 [GEN]
Design
Casted body and bonnet
Bolted bonnet (BB)
Rising stem (RS),outside screw and yoke (OS&Y)
Wedge may be one-piece flexible or split wedge type
Applications
Power plant
Chemical
Petrochemical
Refining
Media
Depending on the valve materials:
water
steam
gas
oil and oil derivates
other non aggressive media
Pressure and temperature
Pressure up to 160 bar
Temperature up to 600 °C
Materials
Carbon, heat resistant alloy and stainless steels
Advantages
Long service life
Respect to emission standards
Easy handling and maintenance
Stem packing replacement in working conditions
Options
Electric, hydraulic or pneumatic actuator
Position indicator
Extended stem
Locking device
Non rising stem and solid wedge
Hole in the wedge (overpressure safety design)
Spring loaded stuffing box (SLSB)
With equalizing pipe
With bypass Valve
With equalizing pipe and bypass valves
Flanges and welding ends according to: GOST, DIN, ASME, etc.
Other paint finishes are available upon customer's request
Gate valve complete with counter flanges, bolting and gaskets
Testing
Every produced gate valve was tested according to EN 12266
Interested in this product?
Raise a nonbinding request now!