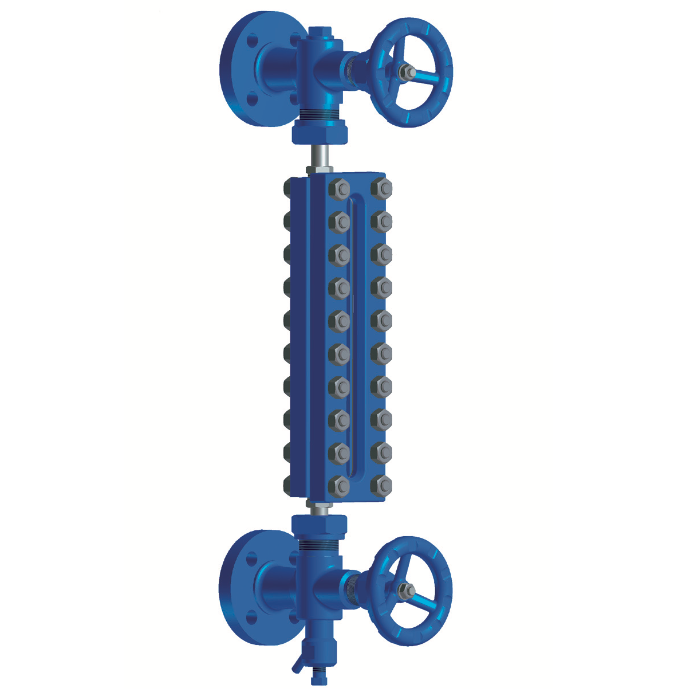 Level Indicators with reflex glass [LIR]
Applications
Level Indicators are designed specifically for fluid level control in boilers and tanks
Materials
Level indicator valves are produced of cast carbon steel.
Internal parts made of stainless steels.
Body in which the glass is placed is made of cast carbon steel.
In standard feature the glass is reflex, produced by renowned European producers.
All gaskets are made of graphite which are anticipated for a long-term work.
Production and delivery
Level indicator valves are very robust construction which makes possible quick closing.
Valve has connection according to EN 1092-1.
Glass is placed in the machine processed two-part body and fastened with the bolts.
Body with glass is in the valve body free rotary as for as final tightening the gaskets in the body.
Technical conditions of delivery and testing are according to EN 12266-1
Options
Level indicator for aggressive fluids made of chemical resistant materials.
Shape of flange connections according to other standards and norms.
Features with transparent glass and with mica shields.
Level indicator complete with counter flanges, bolting and gaskets
Installation instructions
Before installation and first run, the connecting pipeline should be thoroughly cleaned of all impurities and extraneous materials.
By first run, suitable for need, tighten the gaskets on the valves where the glass is sealed.
When installing, take care of the axial and normal adjustment of connections to avoid body distortion and glass damages.
▪ In the case of glass replacement, tighten the bolts on the glass body alternately from the middle towards ends with final torque of 25 Nm.
Interested in this product?
Raise a nonbinding request now!